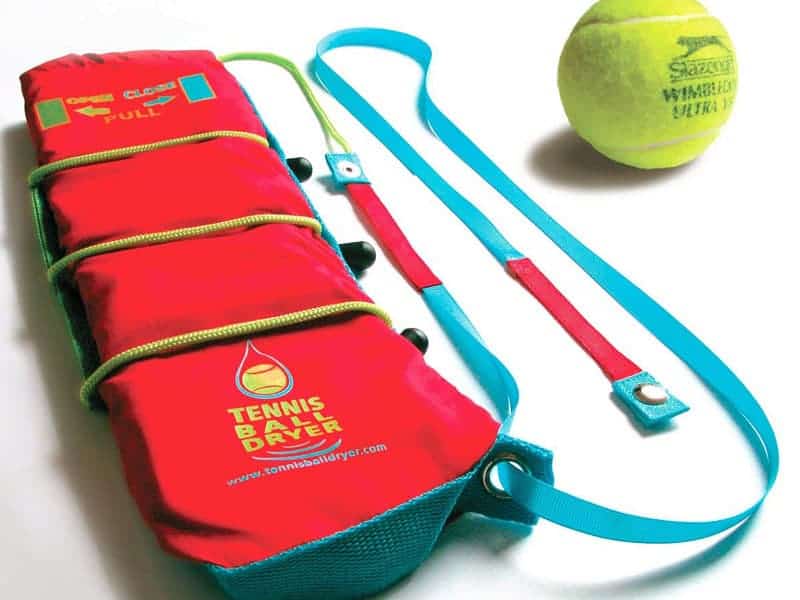 This post is a review of Aspect Sports Tennis Ball Dryer. It also helps answer the question "How do I dry tennis balls?"
All tennis players have experienced the frustration that comes with new tennis balls rolling in a puddle or getting rained on. Once this happens, tennis balls become virtually useless. A wet tennis ball is heavy, doesn't bounce, and leaves marks all over the court.
Until recently, there was no solution to this common problem; however, the Tennis Ball Dryer by Aspect Sports now offers an easy fix to wet tennis balls. This product uses a 3-step drying system that restores tennis balls to playable conditions. As random side benefits, the gadget also has the capability to measure the height of the net and keep drinks cool while playing.
This money-saving multitool is an excellent gift for the tennis players in your life. You can purchase the award-winning Tennis Ball Dryer by Aspect Sports on Amazon using the link below.
Please note: Tennis Gift Guide is a participant in the Amazon Services LLC Associates Program, an affiliate advertising program that allows us to earn fees by linking to Amazon.com and affiliated sites.

October 4, 2023 9:23 am

Amazon.com
Last update was on: October 4, 2023 9:23 am
Aspect Sports Tennis Ball Dryer Review
The Tennis Ball Dryer by Aspect Sports uses a simple, yet effective 3-layer drying system that completely dries wet tennis balls. Here's how it works:
The first layer tightly grasps the surface of the tennis balls, squeezing water out of the fibers.
The water is then absorbed into the porous second layer of the tool where it is stored momentarily.
The third layer is well-ventilated causing the trapped water to naturally evaporate over time.
As a result of the process, you are left with totally dry tennis balls that bounce and play like they were never wet. This patent pending technology provides a fix to a problem tennis players have always struggled with. The tool is a great investment that will pay itself back over time, saving players the money they would usually spend to purchasing new balls. In addition, by saving balls that otherwise would have ended up in a landfill, the Tennis Ball Dryer review by Aspect Sports plays a small role in protecting our environment.
But the fun doesn't stop there. For those who want more, the Tennis Ball Dryer by Aspect Sports offers two other tools that are beneficial on the court.
First, this gift features a built-in net measurement tool. Every tennis player has played on a court where the net height looks questionable. No more debating or questioning net height with your opponent. Instead, use the measurement tool that's built onto the bags handle, and check the net height and correct if needed.
Additionally, the Tennis Ball Dryer can be used to keep your drinks cool on court. With tennis courts being 15-20 degrees warmer than the air temperature, keeping drinks cool can be a tough task. Simply put a bottle in the tennis ball dryer and your drink will be cool throughout your time on the court. The first layer in the ball dryer is made of similar material to that of portable drink coolers, so its a great place to store a drink and shield it from the heat.
The Tennis Ball Dryer by Aspect Sports delivers on its promise of drying tennis balls. Previous customers have been satisfied with the tool's effectiveness in drying balls a timely manner, taking only a couple hours to complete the process. If tennis balls get wet, you'll need a few backups to continue playing; however, you won't have to purchase new tennis balls every time water touches a ball. Owners have commented on the convenience of having a drink cooler and net measurement tool as well.
It's safe to say that the Tennis Ball Dryer is a one of a kind gift for tennis players, and this device hasn't gone without recognition. ACE Tennis Magazine awarded the tool with the title of 'Best Tennis Gadget of the Year' and was listed in the FAB FIVE Gear Guide in Head Tennis Magazine. If looking for a multipurpose gift for your tennis-loving friend or family member, look no further than the Tennis Ball Dryer by Aspect Sports. Learn how to dry wet tennis balls today, and purchase this item through Amazon using the link below.