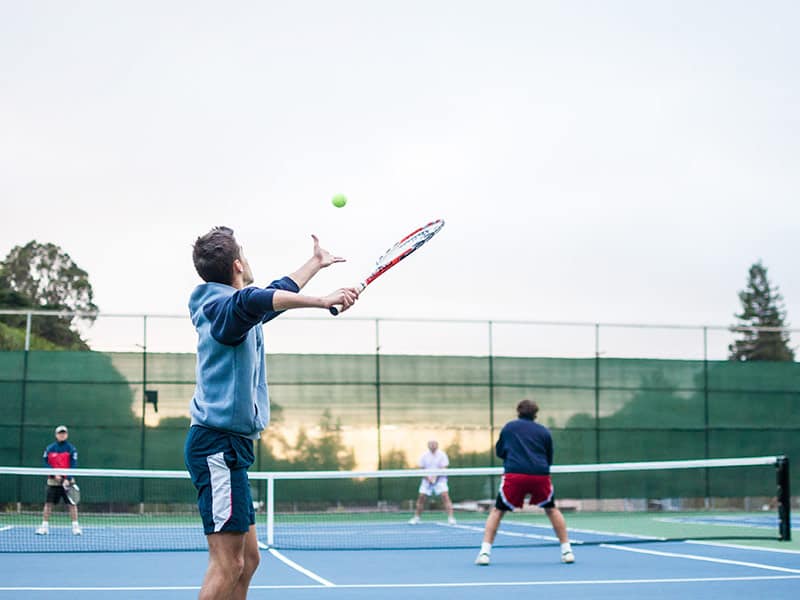 It's June, which means that tennis weather is here and Father's Day is approaching quickly. Finding tennis gifts for dad can be stressful, so we've compiled a list of great gifts for the tennis eccentric fathers in your life, whether they be your father, husband, grandfather, or friend.
Please note: Tennis Gift Guide is a participant in the Amazon Services LLC Associates Program, an affiliate advertising program that allows us to earn fees by linking to Amazon.com and affiliated sites.
6 Tennis Gifts for Dad
1. Zepp Tennis 2 Swing & Match Analyzer
If you have a tech-savvy father in your life who's always looking for ways to improve their tennis game, the Zepp Tennis 2 Swing & Match Analyzer is the perfect gift. This device easily attaches to any tennis racquet and tracks your performance statistics as you play.
The Zepp Analyzer records ball speed, rpm, where you hit the ball on your strings, and more. Using a speed of 1,000 data points collected per second, the device sends your playing statistics to your smartphone via Bluetooth for you to review your performance.
Warning: All of this performance data could make your tennis-loving dad a bit annoying.
Why This is a Great Tennis Gift for Father's Day
The world's most powerful swing analyzer
Tracks ball speed, swing type, spin, and sweet spot on forehand/backhand, serve, and volleys
Keep track of dad's practice and match statistics using a Bluetooth compatible device
Video capturing features allows for review of your strokes to critique and change
Dad can share his statistics with friends and others who use the device
Fits on all tennis racquets
See the Swing Analyzer on Amazon
---
2. Vintage Tennis Patent Poster Prints
This set of 6 vintage tennis patent posters would be a great gift for any fathers man cave, office, or garage. These posters provide a vintage look to any room and serve as a conversation starter with guests. The posters feature patents of tennis racquets, balls, shoes, and nets.
Frames are not included, but you can easily pick up some frames that match your father's decor to take this gift to another level.
Features
Set of six 8 x 10 vintage posters
Printed on high quality archive paper
Frames not included
See these Posters on Amazon
---
3. Lacoste Sport Ultra Dry Raglan Polo Shirt
As long as you know your dad's shirt size, you can't go wrong with a nice Lacoste polo shirt for a Father's Day tennis gift.
Founded by former professional tennis players, Lacoste is one of tennis's most iconic and prestigious brands. Constructed with stretch fabrics, this shirt is the complete shirt for both on the court play and casual wear. The shirts Ultra-Dry material helps to wick sweat away from the body, keeping your dad cool while he's on the court. As a bonus, the shirt features UV 50 protection to help block the suns harmful rays.
Features
Made from 100% polyester
14 color choices to choose from
Ultra-Dry wicking material
UV 50 protection
See this Polo on Amazon
---
4. Lunarable Tennis Racquets Necktie
Your father may have a lot of ties in his collection, but I doubt he has one like this.
The Lunarable Tennis Racquets Necktie features prints of tennis racquets, both old and new. From the aluminum and wood racquets of the 1960's – 1980's, to the graphite and fiber glass racquets of today's game, this necktie has it all. It serves as a great accessory to both formal and non-formal events in which a father can exhibit his passion for tennis. Made from 100% satin polyester, the necktie is sure to be a staple of his collection for many years to come.
Features
Length: 59.2", Width: 3.2"
100% satin polyester
Machine Washable
Digitally Printed
See this Tie on Amazon
---
5. NikeCourt Heritage 86 Adjustable Tennis Hat
Nike tennis has a long and esteemed history through its various sponsorships and innovations in the game. This hat, specifically its retro logo, pays homage to this history. The logo is a nod to the NikeCourt logo worn by past Nike staples John McEnroe, Andre Agassi, and Pete Sampras (most likely the guys that your father watched and admired in his glory days).
The NikeCourt Heritage 86 Adjustable Tennis Hat is available in 6 color options to provide a style for every tennis father out there and is an excellent cap for streetwear and on-court play.
Features
NikeCourt Heritage Logo
100% cotton
Adjustable sizing
6 color options
6-panel design
See this Nike Hat on Amazon
---
6. Amlong Crystal Tennis Ball Paper Weight
If you're looking for  a unique father's day gift without breaking the bank, look no further than the Amlong Crystal Tennis Ball Paper Weight. This beautiful desk piece is sure to add life and personality to the home or office desk of the special father in your in life.
To make the decision easier for you, the item already comes shipped in a branded gift box. This tennis gift idea for Father's Day boasts great reviews online.
Features
Optical Crystal
Handcrafted
Gift box included
Flat bottom for stability
See this Paper Weight on Amazon
---
Have some Father's Day Tennis Gifts that you'd like to recommend?
Post them in the comments below and let the community weigh in.