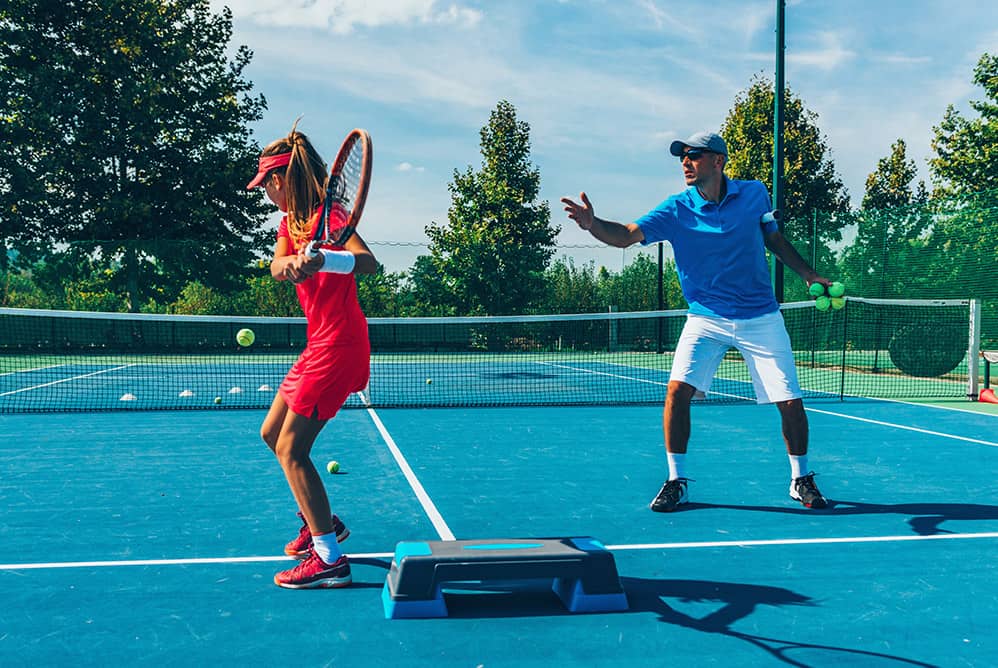 Even though tennis is an individual sport, it's difficult to practice your tennis game without the help of a coach or another player. Maybe you don't have a hitting partner to practice with, a coach to feed balls to you, or the weather isn't cooperating with your desire to play. That's where the best tennis training tools come in. Over the years, innovations in the tennis training equipment world have grown rapidly and there are constantly new tools developed to help players reach their tennis potential. Here you'll find the best tennis training tools that can help you become the tennis player you want to be, rain or shine and with or without a playing partner.
Please note: Tennis Gift Guide is a participant in the Amazon Services LLC Associates Program, an affiliate advertising program that allows us to earn fees by linking to Amazon.com and affiliated sites.
The Best Tennis Training Tools: An Overview
Every tennis player has certain aspects of their game they would like to improve on. Luckily for you, there's a tool out there for nearly every facet of the game. Whether you want more topspin on your groundstrokes, your serve isn't where you want it to be, or you struggle with on-court footwork; there's a tennis training tool out there to help you. In this guide, we'll highlight some of the best tennis training tools and how each one helps to improve your game.
TopspinPro – Tennis Training Aid, Learn Topspin in 2 Minutes a Day
A heavy topspin forehand or backhand can be the difference between a good tennis player and a really good tennis player. It's one of the most important shots to have in your repertoire, as it allows you to push your opponent off the court while attacking and neutralize a point when playing defense. The TopspinPro Tennis Training Aid will help you gain the topspin on your shots that you've always wanted.
The construction of the tool forces players to swing at the correct angle required to hit an effective topspin shot and allows players to feel what the correct mechanics are to hit topspin. The folks at TopspinPro claim that it takes just two minutes a day using their tool to commit proper topspin technique to your muscle memory. As with all strokes in tennis, muscle memory is key to hitting great shots. This tool is a simple way to practice topspin by yourself.
PROS:
Teaches proper topspin mechanics
Can be used indoors or outdoors
Adjustable height for players of all sizes, including children
Supported by tennis coaches around the world
CONS:
Construction of the tool disallows practice of other shots such as slice and flat strokes
See the TopspinPro on Amazon
---
The Total Serve Tennis ServeMaster Serve Tool and Swing Trainer for Tennis Training
Talk to any tennis coach and they'll tell you the same thing: The serve is the most important shot in tennis. Every point is started with a serve and sets up how the rest of the point will play out. An effective serve can even garnish you free points. Who doesn't like free points? When it comes to serving, two key aspects are having a motion you can replicate every time and the grip you use on your racquet. The Servemaster Tool from Total Serve assists you with both of these aspects so that you can master the most important shot in tennis.
This tool helps players experience what a great serve should feel like so they can replicate that feeling and commit it to their muscle memory. Once you feel how you should be hitting your serves, you can put it to use in your game. Additionally, the ServeMaster tool assists with proper serving grip. Regardless of whether you're hitting a kick, slice, or flat serve, they all start with the same grip: Continental grip. The tool has indicators on the handle to show where proper hand placement should be on a racquet for a 3/8th continental grip. Once your hand is in place, you can swing away with the tool to improve your timing, consistency, and placement!
PROS:
3 weight variations that accommodate players of all kinds
Made from durable rubber and ozone
Portable for easy, on-the-go use
Can be utilized indoors and out
Can be used to practice groundstrokes, as well
CONS:
Some users may find the tool awkward to use
See the Total Serve on Amazon
---
Agility Ladder and Speed Cones Training Set
The Agility Ladder and Speed Cones Training Set may not get you super excited; however, it is without a doubt one of the most important items on this list. Have you ever taken a break from tennis and the first time you play again you seemingly can't make a ball? Your strokes are embedded in your muscle memory, right? Your strokes are still there, but your footwork is the culprit to blame. Footwork is the first thing to go in tennis players, yet one of the most important keys in being a good player. Every stroke starts and ends with good footwork; it's really difficult to hit a good shot without proper footwork. That's where this agility ladder and speed cones set from Mantra Sports comes in.
The Agility Ladder and Speed Cones Training Set helps to build a collection of valuable physical assets. The agility ladder helps to improve the speed of your feet and can be implemented in tennis specific footwork drills. Additionally, the agility ladders teach balance and mobility on a tennis court. The speed cones assist in building not only footwork, but your top end speed. With consistent use of this training set, you will see noticeable differences in your ability to return tough shots and hit shots you couldn't previously hit due to upgrades in your footwork.
PROS:
Made from heavy-duty plastic and nylon
Includes carrying bag for portability
Includes footwork drills chart
See the Agility Kit on Amazon
---
Flybomb Portable Tennis Trainer
The Portable Tennis Trainer from Flybomb allows players to practice a multitude of shots on their own. From forehands and backhands to slice and topspin, this training tool provides practice for almost any shot. All you need is a strip of concrete and you can spend hours honing your tennis game. There is a reason this type of training tool has been around for so long, it has proven itself to provide great practice for all players.
​Though this kind of tool has been around for a while, the Flybomb Portable Tennis Trainer has several new innovations to set itself apart from previous models. This tool features an iron base so that no water or sand is needed before you can start swinging away. Additionally, the base is much smaller than previous versions, allowing for even greater portability. This tool is tried and true to be simple, portable, and effective.
PROS:
No need for water or sand
Portable carrying case
Iron base, but light enough to easily carry
Durable String
Easy to replace balls
CONS:
The quality of the ball might be lesser than some players are accustomed to
See the Portable Tennis Trainer on Amazon
---
Tennis Swing Wrist Training Aid for Forehands, Backhands, Volleys and Serves – PermaWrist
When it comes to hitting volleys, the most common mistake players make is "breaking" their wrist. By this, I mean that players flex their wrist back and then forward before making contact with the ball. It's a natural tendency for players to feel the need to break their wrist in attempt to gain more power on their volleys. However, the key to hitting a good volley is to keep a near 90-degree angle between the racquet and your arm which discourages a player from "breaking" their wrist. The Tennis Swing Wrist Training Aid from PermaWrist discourages players from breaking their wrist on volleys and lets players feel what the proper wrist flick on forehands and backhands should feel like.
The Tennis Swing Wrist Training Aid works by attaching elastic bands to both your racquet and wrist. When breaking the wrist attempting a volley, players will feel an increased tension in the chords and will know immediately that they broke the wrist. The same goes for forehands and backhands. Players will feel an increased chord tension when swinging with an improper motion.
PROS:
One size fits all adults
Accommodates to both left and right-handed players
Good tool for relieving tennis elbow pain from bad technique
Includes set-up and use instructions
CONS:
May not be small enough for children players to use
See the Training Aid on Amazon
---
If you want to improve your tennis game but struggle with finding hitting partners or making time in your busy day, don't fret. These tennis training tools will aid you in reaching your tennis goals on your own time and at your own discretion.
---
Have some Tennis Training Equipment that you'd like to recommend?
Post your favorite tools in the comments below and let the community weigh in.