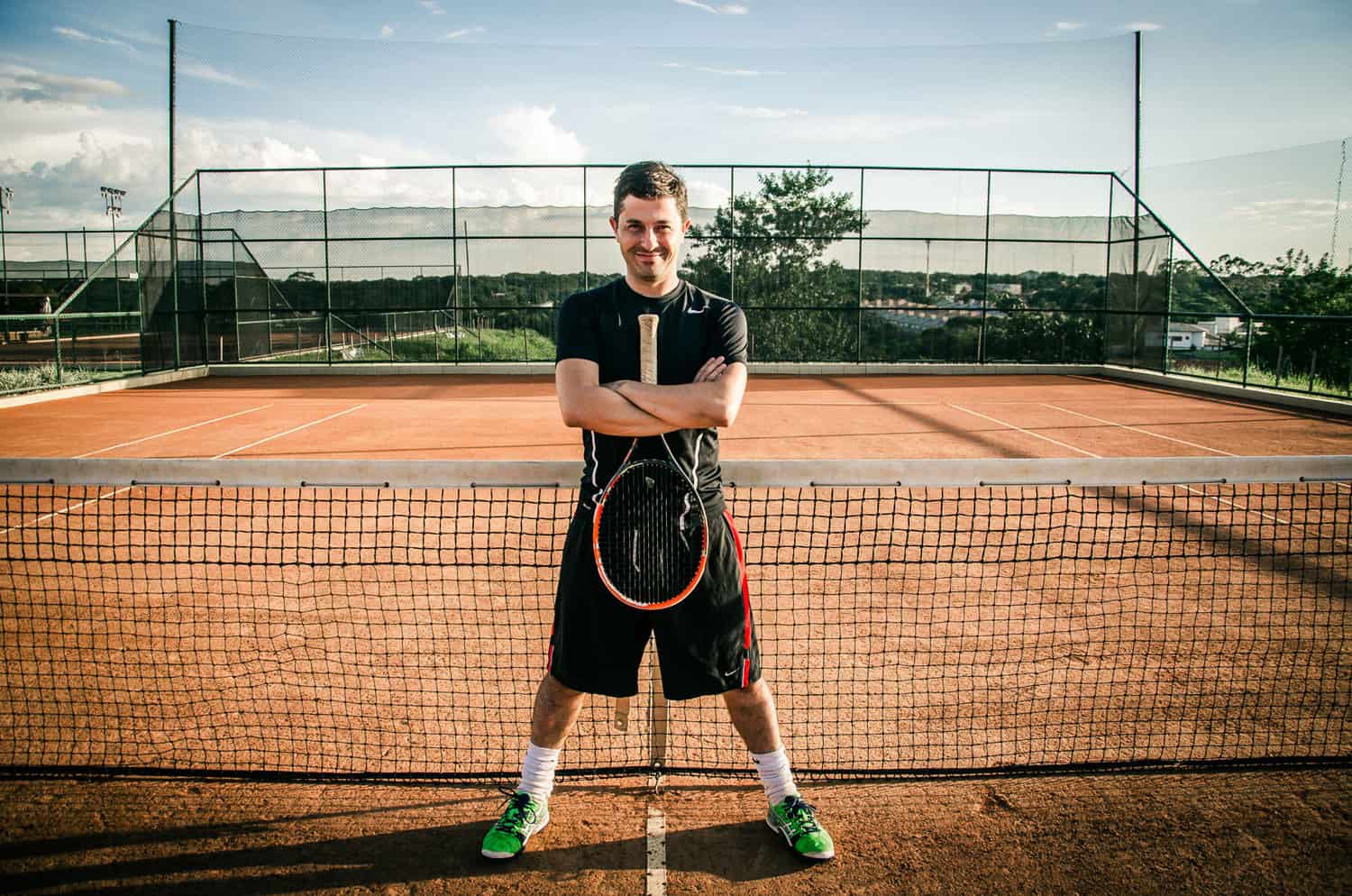 Find the Best Tennis Bag for Your Skill Level
Tennis bags are a crucial piece of a player's game. A good tennis bag can keep a player organized and help store vital tennis gear all in one place. When players can carry their racquets, shoes, clothes, and accessories in one bag, it guarantees that they show up to the court prepared.
The best tennis bags vary in size, and some can hold up to 12 racquets. At the same time, beginners and children will find that a smaller bag will fulfill their needs better than a pro bag, so I've organized this best tennis bag post by varying skill levels. Here are several tennis bags that are suitable for beginning/junior, intermediate, and advanced players.
Please note: Tennis Gift Guide is a participant in the Amazon Services LLC Associates Program, an affiliate advertising program that allows us to earn fees by linking to Amazon.com and affiliated sites.
Best Tennis Bag for Beginning/Junior Players
1. Wilson Team III Tennis Bag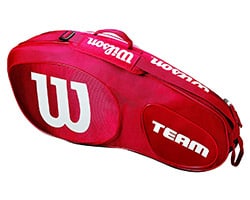 If you are one of the many people that idolize Roger Federer, this is your chance to be like Roger and sport a red Wilson bag just as he does. The red Wilson bag has become an icon in the tennis community.
This bag holds up to three racquets, a perfect size for players just starting out or for junior players. Don't worry, there is also plenty of room for your other items in the bags center compartment. The center compartment serves as a storage space for your clothes, balls, water bottle, and more. The large outside pocket on the side of the bag is a great space for your phone, keys, and wallet to stay safe while you enjoy some tennis. It may seem like all your gear could weigh down this bag; however, the padded shoulder strap makes carrying it a breeze.
The Wilson Team III Tennis Bag is available in both red and blue.
2. Dunlop Performance 3 Pack Tennis Bag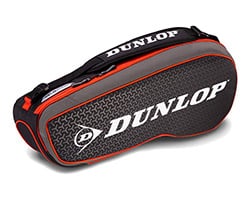 Dunlop is offering a stylish, yet functional red and grey tennis bag for beginning players with their 3 Pack Tennis Bag.
On the outside, it may seem like just another 3-pack bag; however, it offers an important feature that many small bags don't: a thermal lining racquet compartment. Hot and cold temperatures can be damaging to racquets and strings, but with thermal lining, your gear will be protected from the weather. Other compartments include a small accessories pocket and a designated pocket for your water bottle, ensuring that no water is leaked onto your other items. With a padded strap and handle on top, the Dunlop Performance 3 Pack Tennis Bag is comfortable and easy to carry around.
3. Babolat Pure x3 Tennis Racquet Bag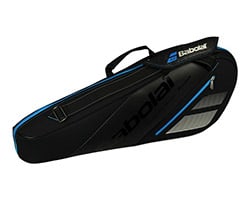 To go along with their popular Babolat Pure racquet line, Babolat has a bag to complement it. This bag's design is simple, functional, and features cool colors to give it a classic look.
This 3-racquet bag is the perfect bag for going to practice, a tennis outing, or just playing with a friend. Its four accessories pocket offers plenty of room for your tennis essentials. One of the accessory pockets features a hard-outer shell that will protect your valuables from damage. Though classified as a 3-racquet bag, the main compartment can fit up to 4 of your racquets. A padded shoulder strap and handle give you options on how you want to carry it around.
4. Klau Tennis Racquet Backpack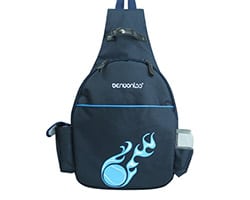 This bag makes a day at the courts simpler for junior players by keeping their equipment all in one compact place.
The Klau Tennis Racquet Bag is the perfect design for kids as they can put it on their back like a backpack and hit the courts. The main bag compartment can hold up to two racquets, adult or junior sized. Additionally, the main compartment is spacious enough to hold your phone, wallet, towel, and other accessories. Features include two side pockets, one that can hold a water bottle and the other which can hold tennis balls. The Klau Tennis Racquet Backpack is the easiest bag for children to tote their equipment around to practice, lessons, and matches.
---
Best Tennis Bags for Intermediate Players
1. HEAD Core 6R Combi Tennis Bag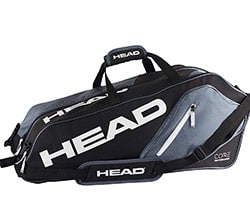 The Head Core 6R Combi Tennis Bag is the next step up on the market, and it holds up to 6 racquets between its two main compartments. An intermediate player will usually need this extra space due to having more racquets and accessories. Its two outer pockets are the perfect spaces for players phone, wallet, keys, and tennis accessories.
The bag's unique design standouts among the crowd of the tennis bag world. Players can pick between padded shoulder straps or a padded handle on top to carry the Head Core 6R Combi Tennis Bag. People starting to consistently play more and have outgrown a smaller bag should seriously consider a 6-racquet bag such as this one.
2. Babolat Team Expandable Tennis Bag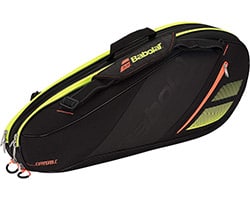 Intermediate players can be a wide range of different ages, skill-levels, and interests in the sport. Consequently, the Babolat Team Expandable Tennis Bag makes the list for its ability to expand and compress depending on the space a player needs. Players can unzip compartments to expand the bag or zip up compartments to compress the bag.
The bag can hold 4 racquets at its smallest size and 7 racquets at its most expanded. Each of the main compartments has soft dividers that protect racquets and give the bag structure. Included on the outside of the bag are two accessory pockets and shoulder straps for easy carry.
3. Wilson Super Tour 2 InfraRED 3 Pack Bag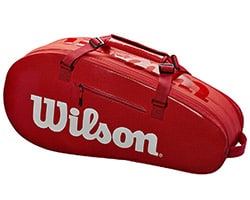 The Wilson Super Tour InfraRED 3 Pack Bag is Wilson's premier 6 racquet bag and a very similar product to what Roger Federer is sporting now.
Once again, this bag offers the classic red Wilson bag look that Roger Federer made iconic. To achieve this classic look, the design is simple, elegant, and not over the top. As one of the best tennis bags, this bag features two main compartments that each can hold up to 3 racquets. One of these main compartments includes thermal lining to protect your racquets and strings from the elements. The other main compartment features a divider that can be put in, separating it into two sections. This divider is ideal for carrying clothes and shoes. Two substantially sized accessory pockets are included on the bag. Additionally, two small, fleece-lined accessory pockets are on each side that serve as perfect protectors for valuables such as phones.
---
Best Tennis Bags for Advanced Players
1. Tecnifibre Air Endurance 9 Racquet Bag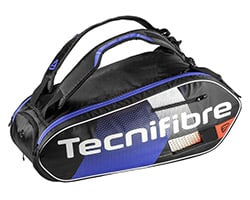 The Tecnifibre Air Endurance 9 Racquet Bag is a great option for serious players looking for more space.
The bag is made from Tarpaulin material that is rip resistant and extremely lightweight, making even the most packed bags light and easy to handle. The two main compartments can hold up to 9 racquets in total, making this a great pick for players with many racquets.
A shoe compartment is located on the back of the bag that allows players to change into something more comfortable after matches or practice. The bag includes one small accessory pocket that one can fit their important possessions in. Soft, foam-padded shoulder straps make for easy carrying to and from the courts.
2. Babolat Pure Wimbledon 12 Pack Bag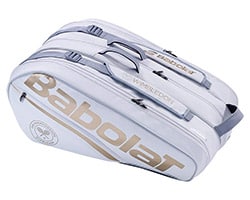 Wimbledon's class and tradition are represented through Babolat's Pure Wimbledon 12 Pack Tennis Bag. Its sleek, white design will catch people's attention when you step onto the court.
The bag features two main racquet compartments that are lined with Isothermal Protection to help retain string tension in racquets. These compartments can hold up to 5 racquets each. The middle compartment can hold all your other gear or up to 5 more racquets. A pocket on the backside of the bag serves as a compartment for a pair of shoes.
Small icons printed inside of the small accessory pockets demonstrate the attention to detail Babolat put into creating this beautiful bag. Players can use the padded backpack straps or handles on top of the bag to transport it from one place to another.
3. Wilson Federer DNA InfraRED 12 Pack Bag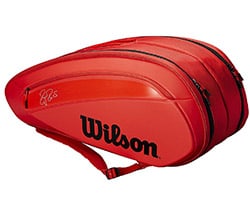 This simple, yet clean looking bag is Roger Federer's signature bag.
The bag features several racquet compartments, two of which have Thermoguard to protect racquets and strings from extreme heat. Each main compartment has buttoned straps that keep gear from falling out when opened.
Two large accessory pockets are located on the bag that are able to hold gear, a pair of shoes, or smaller valuables. The outside of the bag is made with a durable hard-shell that protects items within the bag and helps to keep the bags shape.
Though having Federer's bag may not help you play like him, it will help you feel just as sophisticated as the greatest of all time.
---
These are some of the best tennis bag reviews for players of all skill levels.
There are an abundance of tennis bag options available on the market that fit the needs of all players. When choosing the right tennis bag, you should consider how much space you need and how many racquets you prefer to carry with you. Bags come in many different colors and designs, letting you create your own style on and off the tennis court.
If you're trying to decide between a bigger and smaller bag, its usually better to opt for more space just in case you need it.
Are there other options we should have considered? Post about them in the comments below.
Also, be sure to check out our best synthetic tennis strings write-up to help avoid tennis elbow.