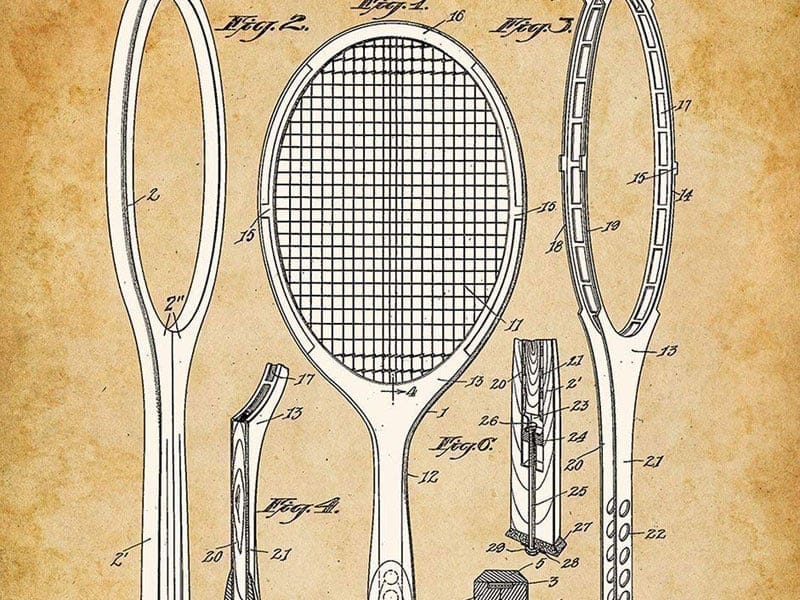 This Tennis Racquet Patent Print is a real eye-catcher and a classy throwback to the past.
From the first wooden lawn racquets of the 1800's to the light-weight fiberglass racquets of today, tennis racquets have continuously evolved to bring the best out of players. Young tennis players of today will never know the struggles of wielding a heavy wooden racquet around the court, but you can help them take a dive into tennis history with a patent blueprint of a 1920's tennis racquet.
This piece would be great for any room in the house, the office, or the local pro shop. It's the perfect gift for a young player developing an appreciation for the game and a memory of what once was for an experienced player. Purchase it for your own home or gift it for a friend to cherish using the link below.
Please note: Tennis Gift Guide is a participant in the Amazon Services LLC Associates Program, an affiliate advertising program that allows us to earn fees by linking to Amazon.com and affiliated sites.

September 27, 2023 10:52 pm

Amazon.com
Last update was on: September 27, 2023 10:52 pm
Tennis Racquet Patent Print Review
This print features the original blueprint of George Agutter's racquet design which was patented in 1921.
On first glance, it would seem like an ordinary wooden racquet; however, there are some innovative features implemented into the design. For example, the racquet is made of solid wood with metal bindings in the interior of the racquet head. Agutter believed the metal binding would give the racquet better support and help protect against racquet warping without adding too much weight. This unique design is was new to tennis racquet technology.
If you're interested in learning more about the design or want to print the patent out to go along with the gift, check out the original patent papers here.
When purchasing prints, it's important to know how they are made and their level of authenticity. Unlike with some other prints on the market, this patent print is an authentic photographic copy of the original picture drawn in the patent papers. This method significantly improves the quality of the print, making it last longer and look cleaner than inkjet prints.
This picture is printed on Fuji Crystal Archive brown paper, giving it nice vintage feel. Fuji Crystal Archive paper is known for its durability, being able to last between 60-100 years. The paper's vintage coloring and texture matches well with furniture pieces and other household items, making for a print that won't throw off the theme of the room. A frame is not included with the print; however, Amazon offers a wide variety of frame styles to pick and choose from.
This Tennis Racquet Patent Print is well-reviewed, which is a testament to its quality and uniqueness.
If you're looking for a thoughtful tennis gift that won't break the bank, look no further than George Agutter's racquet patent print. It's a high-quality print that will last for years while paying homage to the past. Purchase this gift for you or a tennis player you know on Amazon using the link below.