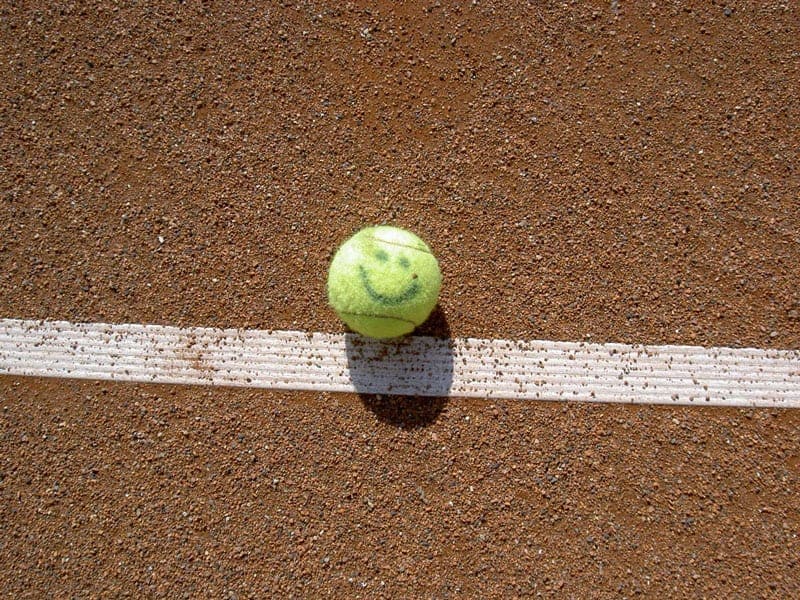 In this post, I highlight some of the best tennis equipment for kids learning the game.
Children tend to learn best when they're having fun and experiencing tangible progress toward success. To make growth and progress fun, adults need to provide tennis equipment for kids learning the game. If kids do not have the proper gear (racquets that are far too big, adult tennis balls, etc.), they may become frustrated or disinterested in learning the sport.
Learning to play a sport can be one of the most memorable moments of a child's life. To make this journey easier for all involved, I've compiled a list of several great tennis products for children that will boost their level of enjoyment and make learning the game easier. Tennis is a great sport to teach kids because it has lifelong potential, so let's get the journey started right.
Please note: Tennis Gift Guide is a participant in the Amazon Services LLC Associates Program, an affiliate advertising program that allows us to earn fees by linking to Amazon.com and affiliated sites.
Wilson US Open Juniors Tennis Racquet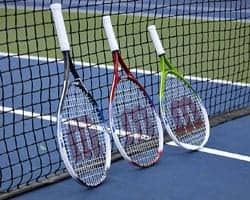 One of the most important steps in learning tennis is to play with a comfortable, appropriately-sized racquet. A racquet too big or small takes away from the fun of the game. Additionally, a racquet sized for a child will protect against injury and developing bad technique later in a player's career.
The Wilson US Open Juniors Racquet comes in four different sizes, making the racquet suitable for ages 2-12 years old. With five different color schemes, this racquet offers many options for kids to sport their favorite color while developing their skills and a passion for the game. This racquet from Wilson is made from aluminum, which means its lightweight and easy to swing. A child's first racquet is bound to get beat up a bit, so adults can rest easy knowing that it has a $15-$23 price point.
Wilson Starter Foam Tennis Balls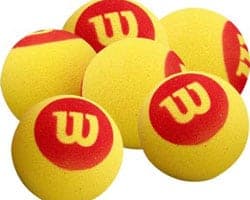 Just as important as a racquet, the type of tennis balls children begin with is crucial to fun, development, and safety. It may be easy and tempting to let kids loose with real tennis balls you have laying around the house, but they are challenging for young players to play with and can result in frustration.
Intended for ages 8 and under, Wilson's Starter Foam Balls are slower, bigger targets, and bounce 75% lower than actual tennis balls. These three aspects combine to make a ball that is easy for youngsters to hit and control. A child will struggle to learn the game and have fun if they can't make contact with the ball. The most important aspect of these balls is that they assure safety to kids. Made from soft foam, these starter balls help parents and kids rest easy knowing that a shot to the face or body won't cause anyone harm. These red foam balls are approved by the United States Tennis Association.
Tourna Rebound Tennis Net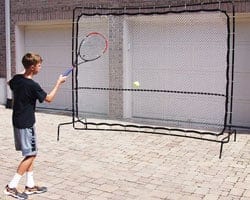 One of the troubles with learning tennis is that it often requires another person to play and practice with; however, the Tourna Rebound Tennis Net eliminates this common problem. With this rebound net, kids can play by themselves and enjoy hours of fun in the safety of their own driveway or garage. Kids involved with tennis lessons and camps can implement what they've learned with ease using a rebound net such as this one. The Tourna Rebound Tennis Net measures 9ft high by 7ft wide, offering plenty of surface area for children to practice on. In addition, the net comes with the option of tilting up or down to adjust the speed and height of rebounded shots. Young players will love the endless hours of fun and practice the Tourna Rebound Tennis Net has to offer.
TRNsports Tennis Trainer Power Base Rebound Trainer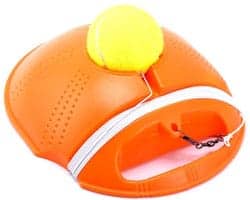 This tennis trainer is a superb tool in developing a young player's swing and improving a crucial tennis and life skill — hand-eye coordination. Variations of this product have been around for many years now, which demonstrates that the TRNsports Tennis Trainer iz a valuable training tool and a proven, fun learning instrument for children. With this trainer, kids can practice their forehand, backhand, and serve by themselves at home. To adults, hand-eye coordination is an afterthought; however, it is a true challenge to young kids. There is no better product to develop hand-eye coordination than TRNsports Power Base Trainer. Very limited assembly is required to get started practicing and crushing forehands in the driveway. TRNsports Power Base Rebound Trainer includes 5 extra strings in case one is broken or to tie several strings to the ball for extra durability.
Aonkey Mini Portable Tennis Net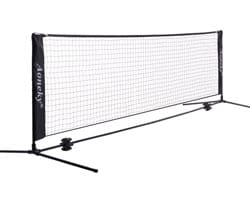 The Aonkey Mini Portable Tennis Net is the perfect item for children to get used to hitting a ball over a net and practicing their ball control. This net will provide hours of fun for young players who can play against parents, friends, and siblings. Being portable and easy to assemble, the Aonkey Net can be popped up quickly for a night of family fun. This portable net features durable nylon netting and a top rope to keep its tightness. Sitting at 33 inches tall, the Aonkey Mini Portable net is shorter than a regulation net, making practice an easy and enjoyable experience. Best of all, two length options are available to accommodate players of different ages.
Wilson Orange US Open Tournament Ball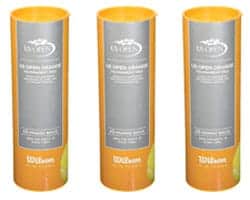 The International Tennis Federation categorizes children's tennis balls in 3 stages: Stage 3 (Red), Stage 2 (Orange), and Stage 1 (Green). These tennis balls are Stage 2 balls intended for players below 10 years old and are a step up from the red balls previously discussed above.
The Wilson US Open line of balls are the official ball of the U.S. Open and widely regarded as the best tennis balls for hard courts. The orange Wilson balls are less pressurized and bounce 50% slower than yellow regulation tennis balls. Slower ball speed gives kids ample time to run, set up, and take a crack at the ball within their strike zone, giving them the best practice experience possible. Unlike the Stage 1 red balls, these orange balls are the size of a regulation tennis ball, providing kids their first experience at hitting a more realistic sized ball. This is the perfect ball for your already improving youngster in the driveway or on the court. These balls are ITF and USTA approved.
Tourna Ballport Deluxe Tennis Ball Hopper with Wheels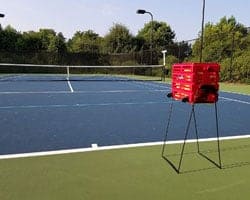 There are many different tennis ball hoppers on the market; however, none are more kid friendly than the Tourna Ballport Deluxe with Wheels. Made from heavy-duty polypropylene, but up to 50% lighter than traditional metal ball hoppers, the Tourna Ballport Deluxe can easily be carried and moved by kids. If this 80-ball capacity hopper does get too heavy to handle, young players can put it on its wheel and cart it around the court. Tennis ball hoppers falling over can be frustrating; however, with locking legs and protective bars keeping balls inside, this hopper protects you from chasing down all the balls you just picked up.
The Tourna Ballport Deluxe Tennis Ball Hopper hasn't gone without recognition, as tennis great Pete Sampras and legendary doubles team the Bryan Brothers have endorsed this product. The Tourna Ballport Deluxe takes all the hassle out of transporting and picking up balls, making more time for playing and having fun.
These are items are some of the best pieces of tennis equipment for kids learning the game.
There is no age too young for picking up a racquet and learning a sport that can be enjoyed for the rest of one's life. With plenty of tennis items geared towards young players, tennis has never been easier and more accessible to play. These products will bring out all the fun tennis can offer and teach a thing or two along the way. Watching a child have fun and learn a sport can be as rewarding for you, as it is for them.
So what are you waiting for? Pick up some of the best tennis equipment for kids and get started today!